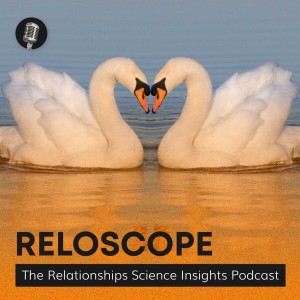 Friday Mar 24, 2023
Toya Ricci: Romantic Passion and The Benefits of Exploring and Expressing Sexuality | Reloscope #19
Are you feeling like the passion in your romantic relationship has dwindled, or wondering how to pursue romantic passion in the first place? The answer may lie in exploring and expressing sexuality. But how can we do this in a healthy and fulfilling way?
Join host Aditi Kutty in this episode of Reloscope: The Relationships Science Insights Podcast as she delves deep into this topic with Melbourne-based creative sexologist and educator, Toya Ricci. With over 15 years of experience in facilitating creativity, art, and technology, Toya believes that sex is an act of creativity and is passionate about helping people embrace and express their sexuality for their overall health and wellbeing.
Toya shares her thoughts on what defines a romantic relationship, how relationships have evolved over the years, and the best practices to improve romantic passion through exploring and expressing sexuality. With her insightful and engaging commentary, Toya offers a fresh perspective on this important topic, and provides listeners with practical advice on how to enhance their romantic relationships.
So, get ready to explore the world of sexuality and romantic passion with Toya Ricci and Aditi Kutty in this exciting episode of Reloscope. You won't want to miss it!
Follow Toya's works via http://toyaricci.com/ or connect with her via Instagram @toyaricci and LinkedIn at https://www.linkedin.com/in/toyaricci/?originalSubdomain=au
Produced by the Relationships Science Labs, a division of LMSL, the Life Management Science Labs. 
Visit https://lifemanagementsciencelabs.com/ to learn more about LMSL. 
Follow us on Social Media to stay updated: 
YouTube: https://www.youtube.com/channel/UCbjaCqZj5gyYEBdnJL__VCQ    
Facebook: https://www.facebook.com/relationships.science.labs/  
Instagram: https://www.instagram.com/relationships.science.labs/   
Twitter: https://twitter.com/R_Sci_Labs 
You can also subscribe and listen to the show on your preferred podcasting platforms: 
Apple Podcasts: https://podcasts.apple.com/us/podcast/reloscope-the-relationships-science-insights-podcast/id1648297613 
Spotify: https://open.spotify.com/show/4By5jqMt6V0Co77Dsa1CgM  
Amazon: https://music.amazon.com/podcasts/e8ac0e92-9ca2-4e05-80e0-9b86f36da79f 
iHeart Radio: https://iheart.com/podcast/102784435 
Podbean: https://relationshipsscienceinsights.podbean.com/   
PlayerFM: https://player.fm/series/3401809 
Podchaser: https://www.podchaser.com/podcasts/reloscope-the-relationships-sc-4911255/episodes/recent 
Google: https://podcasts.google.com/feed/aHR0cHM6Ly9mZWVkLnBvZGJlYW4uY29tL3JlbGF0aW9uc2hpcHNzY2llbmNlaW5zaWdodHMvZmVlZC54bWw 
Comments
(0)
To leave or reply to comments, please download free Podbean or