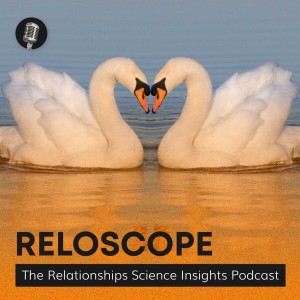 Friday Feb 24, 2023
Nitasha Strait, Ph.D: Understanding the Effect of Lust on Romantic Relationships | Reloscope #15
How does sexual desire affect our romantic relationship? Is sexual desire essential for a romantic relationship? 
In this episode of Reloscope: The Relationships Science Insights Podcast, host Aditi Kutty will discuss the effect of lust/ sexual desire with Nitasha Strait, Ph.D., M.Ed., MA, LMFT, CST–the owner/CEO of The Better You Institute, LLC, where she is a licensed marriage and family therapist, certified sex therapist, and clinical supervisor specializing in couples and sex therapy.
She started working in community-based programs throughout Philadelphia, Pennsylvania, USA. Here, she learned the power of family systems and attachment. Within your family system, you discover more discover more about relationships and yourself. Sometimes, this learning can serve you in adulthood, and sometimes what you've learned is maladaptive for adulthood. 
Nitasha realized how big of a gap or how much misinformation there often was in her clients' learned narratives about sex and sexuality and how greatly that impacted them daily with themselves and their loved ones. It has become her life's mission to serve as many people as possible, helping individuals untangle sexual scripts that block them from getting what they want.   
Aditi and Nitasha discuss the effects of sexual desire and lust on our romantic relationships, the definition of lust, and whether it is a must to have a sexual desire when we have a romantic relationship, and how that manifests in a healthy relationship. 
Follow Nitasha's works via https://thebetteryouinstitute.com or connect with her via social media:
Instagram: thebetteryouinstitute
Facebook: @thebetteryouinstitute
LinkedIn: https://www.linkedin.com/in/nitasha-strait-ph-d-m-ed-ma-lmft-cst-30841b22/ 
Produced by the Relationships Science Labs, a division of LMSL, the Life Management Science Labs. 
Visit https://lifemanagementsciencelabs.com/m/ to learn more about LMSL.
Follow us on Social Media to stay updated: 
YouTube: https://www.youtube.com/channel/UCbjaCqZj5gyYEBdnJL__VCQ    
Facebook: https://www.facebook.com/relationships.science.labs/  
Instagram: https://www.instagram.com/relationships.science.labs/   
Twitter: https://twitter.com/R_Sci_Labs 
You can also subscribe and listen to the show on your preferred podcasting platforms: 
Apple Podcasts: https://podcasts.apple.com/us/podcast/reloscope-the-relationships-science-insights-podcast/id1648297613 
Spotify: https://open.spotify.com/show/4By5jqMt6V0Co77Dsa1CgM  
Amazon: https://music.amazon.com/podcasts/e8ac0e92-9ca2-4e05-80e0-9b86f36da79f 
iHeart Radio: https://iheart.com/podcast/102784435 
Podbean: https://relationshipsscienceinsights.podbean.com/   
PlayerFM: https://player.fm/series/3401809 
Podchaser: https://www.podchaser.com/podcasts/reloscope-the-relationships-sc-4911255/episodes/recent 
Google: https://podcasts.google.com/feed/aHR0cHM6Ly9mZWVkLnBvZGJlYW4uY29tL3JlbGF0aW9uc2hpcHNzY2llbmNlaW5zaWdodHMvZmVlZC54bWw  
Comments
(0)
To leave or reply to comments, please download free Podbean or