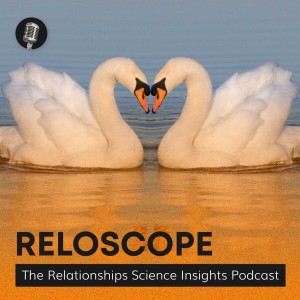 Friday Jan 20, 2023
Dr. Talal H. Alsaleem, PsyD, LMFT: Infidelity: How, When, Where, and Why | Reloscope #10
We have seen many married couples who might look good when together. Yet, after years of living under one roof, they are separated because of infidelity. How could it happen? Is it because they have less relationship satisfaction? Physical appearance? Why and where does it happen?
In this episode of Reloscope: The Relationships Science Insights Podcast, host Aditi Kutty is joined by Dr. Talal H. Alsaleem, PsyD, LMFT, the father of modern infidelity counseling, is an award-winning licensed marriage and family therapist specializing in helping people recover from infidelity—whether alone or as a couple.
He teaches how to use the trauma of an affair to rediscover, establish and maintain healthy relationships with oneself and others through a trademarked seven-step methodology known as the Systematic Affair Recovery Therapy (SART)™ treatment program. 
In addition to offering intensive, one-on-one weekend retreats for couples ready to dive deep and address issues head-on versus spreading treatment out for weeks or months, Dr. Talal also shares his proven framework with other clinicians via CE-credited training and lectures. 
His book, "Infidelity: The Best Worst Thing That Could Happen To Your Marriage" is available on Amazon.com.  You can also find his docuseries, The Infidelity Chronicles, via YouTube. Discover more at www.talalalsaleem.com, or follow him on Facebook, Instagram, and LinkedIn.
Aditi and Dr. Talal discuss reasons why people cheat, how infidelity affects a romantic relationship, some possibilities for fixing broken relationships, and best practices to avoid infidelity to happen in a romantic relationship. 
Follow Dr. Talal's work via http://www.talalalsaleem.com/ and connect with him via LinkedIn https://www.linkedin.com/in/infidelityrecoveryexpert/ or other social media:
Youtube: https://www.youtube.com/channel/UCRfi3YNU1cucDxR8abO6cZg 
Instagram: https://www.instagram.com/dr.talal.h.alsaleem/ 
Facebook: http://fb.me/DrTalalHAlsaleem 
You can also get his book, "Infidelity: The Best Worst Thing that Could Happen to Your Marriage" via Amazon: https://www.amazon.com/Infidelity-Talal-H-Alsaleem-LMFT-audiobook/dp/B081S7HHCT/ref=sr_1_1?keywords=infidelity+the+best+worst+thing+happened+your+marriage&qid=1659736189&sprefix=infidelity+the+be%2Caps%2C120&sr=8-1 
Produced by the Relationships Science Labs, a division of LMSL, the Life Management Science Labs. 
Visit https://lifemanagementsciencelabs.com/ to learn more about LMSL. 
Follow us on Social Media to stay updated:
YouTube: https://www.youtube.com/channel/UCbjaCqZj5gyYEBdnJL__VCQ
Facebook: https://www.facebook.com/relationships.science.labs/  
Instagram: https://www.instagram.com/relationships.science.labs/   
Twitter: https://twitter.com/R_Sci_Labs 
You can also subscribe and listen to the show on your preferred podcasting platforms: 
Apple Podcasts: https://podcasts.apple.com/us/podcast/reloscope-the-relationships-science-insights-podcast/id1648297613 
Spotify: https://open.spotify.com/show/4By5jqMt6V0Co77Dsa1CgM  
Amazon: https://music.amazon.com/podcasts/e8ac0e92-9ca2-4e05-80e0-9b86f36da79f 
iHeart Radio: https://iheart.com/podcast/102784435 
Podbean: https://relationshipsscienceinsights.podbean.com/   
PlayerFM: https://player.fm/series/3401809 
Podchaser: https://www.podchaser.com/podcasts/reloscope-the-relationships-sc-4911255/episodes/recent 
Google: https://podcasts.google.com/feed/aHR0cHM6Ly9mZWVkLnBvZGJlYW4uY29tL3JlbGF0aW9uc2hpcHNzY2llbmNlaW5zaWdodHMvZmVlZC54bWw 
Comments
(0)
To leave or reply to comments, please download free Podbean or