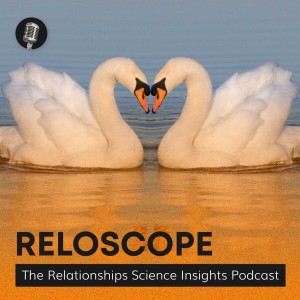 Friday Oct 28, 2022
Dr. Susan Kaye: Sexual Intimacy, Personal Growth, and Sexual Routines | Reloscope #3
Sex is usually seen as merely physical activity. In English, we have the phrase 'making love', which implies an emotional connection, but that connection is usually seen as separate from the act of sex itself. Why is it important to destroy this misconception, and how does sexual intimacy affect our personal growth and relationships?
On this episode of Reloscope: The Relationships Science Insights Podcast, host Aditi Kutty is joined by Dr. Susan Kaye, a sexual well-being specialist with a Ph.D. in Human Sexuality. They unpack what sexual intimacy really means, with the "into me see" method: share with me, and help me share myself with you. They also chat about how attachment styles can help avoid triggers and setbacks in a relationship, as well as the importance of emotional availability. Dr Susan Kaye has 30 years of experience as a somatic practitioner, beginning in 1985 when she worked and studied with the sex research team of Masters & Johnson. She has expertise as a tantra teacher, bodywork practitioner, massage therapist, and yoga instructor. She also has 20 years of working in the sexual health field as a sexologist, sex coach, and sex educator.
Susan believes that offering clients total mind-body wellness is essential to connecting them with talk therapists as well as somatic experts to support them to embody fully the mind-body healing they are seeking. Susan is available for the Supervision of mental health providers, somatic arts practitioners, and medical personnel.
Follow Dr. Susan Kaye's work via http://drsusankaye.com/ or connect with her via LinkedIn at https://www.linkedin.com/in/susan-kaye-29655646/. 
Get her book Am I Normal If?: https://www.amazon.com/Am-Normal-If-Susan-Kaye-ebook/dp/B0B547HZYL/ref=sr_1_1?crid=45F0YZY9GZEL&keywords=am+i+normal+of+susan+kaye&qid=1656273945&sprefix=am+i+normal+if+susan+kaye%2Caps%2C83&sr=8-1 
Produced by the Relationships Science Labs, a division of LMSL, the Life Management Science Labs.
Visit https://lifemanagementsciencelabs.com/ to learn more about LMSL.
Follow us on Social Media to stay updated: YouTube: https://www.youtube.com/channel/UCbjaCqZj5gyYEBdnJL__VCQ
Facebook: https://www.facebook.com/relationships.science.labs/
Instagram: https://www.instagram.com/relationships.science.labs/
Twitter: https://twitter.com/R_Sci_Labs
You can also subscribe and listen to the show on your preferred podcasting platforms:
Apple Podcasts: https://podcasts.apple.com/us/podcast/reloscope-the-relationships-science-insights-podcast/id1648297613 
Spotify: https://open.spotify.com/show/4By5jqMt6V0Co77Dsa1CgM
Amazon: https://music.amazon.com/podcasts/e8ac0e92-9ca2-4e05-80e0-9b86f36da79f 
iHeart Radio: https://iheart.com/podcast/102784435
Podbean: https://relationshipsscienceinsights.podbean.com/ 
PlayerFM: https://player.fm/series/3401809
Podchaser: https://www.podchaser.com/podcasts/reloscope-the-relationships-sc-4911255/episodes/recent 
Google: https://podcasts.google.com/feed/aHR0cHM6Ly9mZWVkLnBvZGJlYW4uY29tL3JlbGF0aW9uc2hpcHNzY2llbmNlaW5zaWdodHMvZmVlZC54bWw
Comments
(0)
To leave or reply to comments, please download free Podbean or