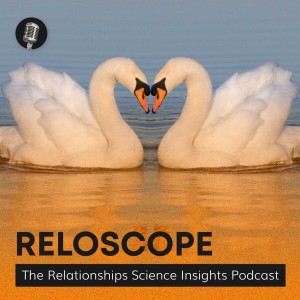 Friday Nov 04, 2022
Dr. Elisabeth Sheff: Attachment Styles, Relationships, and Bonding Preferences | Reloscope #4
Are you unhappy because you're in a bad relationship, or are you unhappy because you're in a monogamous one? Monogamy tends to be the default in our society, but it's not the only option, nor is it the best for everyone. Identifying our bonding style helps not only to understand your own needs, but how you fit into a relationship, in choosing the right partner, and in realising that you are worthy of love. 
On this episode of Reloscope: The Relationships Science Insights Podcast, host Aditi Kutty is joined by Dr. Elisabeth Sheff, Dr. Elisabeth "Eli" Sheff is a researcher, expert witness, coach, speaker, and educational consultant. With a PhD in Sociology and certification as a Sexuality Educator from AASECT, Dr. Eli specializes in gender and sexual minority families, consensual non-monogamy, and kink/BDSM. Sheff is the foremost academic expert on polyamorous families with children, and her 25+ year Polyamorous Family Study is the only longitudinal study of poly families with children to date. Dr. Eli has served as faculty at the University of Colorado, the University of Montana, Georgia State University, the University of Tennessee, Oglethorpe, Emory, and the University of Zurich. 
Dr. Eli joins Aditi to chat about The Bonding Project, a quiz they designed with other experts in the feel that allows us to understand our preferred bonding styles.  They delve into how attachment styles and bonding styles intersect, and why there isn't one model for every relationship. You can take quiz yourself herehttps://www.bondingproject.com/.
Follow Dr. Elisabeth Sheff's works via https://elisabethsheff.com/m/ or connect with her via LinkedIn at https://www.linkedin.com/in/drelisheff//. 
Produced by the Relationships Science Labs, a division of LMSL, the Life Management Science Labs. 
Visit https://lifemanagementsciencelabs.com/ to learn more about LMSL. 
Follow us on Social Media to stay updated: 
YouTube: https://www.youtube.com/channel/UCbjaCqZj5gyYEBdnJL__VCQ
Facebook: https://www.facebook.com/relationships.science.labs/  
Instagram: https://www.instagram.com/relationships.science.labs/
Twitter: https://twitter.com/R_Sci_Labs 
You can also subscribe and listen to the show on your preferred podcasting platforms: 
Apple Podcasts: https://podcasts.apple.com/us/podcast/reloscope-the-relationships-science-insights-podcast/id1648297613 
Spotify: https://open.spotify.com/show/4By5jqMt6V0Co77Dsa1CgM  
Amazon: https://music.amazon.com/podcasts/e8ac0e92-9ca2-4e05-80e0-9b86f36da79f 
iHeart Radio: https://iheart.com/podcast/102784435 
Podbean: https://relationshipsscienceinsights.podbean.com/   
PlayerFM: https://player.fm/series/3401809 
Podchaser: https://www.podchaser.com/podcasts/reloscope-the-relationships-sc-4911255/episodes/recent
Google: https://podcasts.google.com/feed/aHR0cHM6Ly9mZWVkLnBvZGJlYW4uY29tL3JlbGF0aW9uc2hpcHNzY2llbmNlaW5zaWdodHMvZmVlZC54bWw 
Comments
(0)
To leave or reply to comments, please download free Podbean or