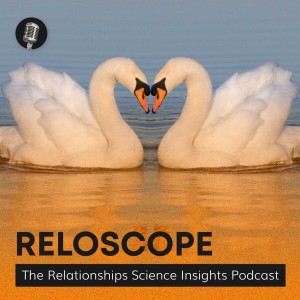 Friday Mar 03, 2023
Dr. Bill Johnson: Navigating Relationship Dynamics in an Interracial Relationship | Reloscope #16
Interracial relationships can be a beautiful thing, but they also come with a unique set of challenges. Navigating the clash of cultures can be complex and difficult, especially when faced with a lack of support from family or societal stigma. So, how can you successfully navigate these issues when your partner comes from a different cultural background?
In this episode of Reloscope: The Relationships Science Insights Podcast, host Aditi Kutty dives deep into this topic with Dr. Bill Johnson – a Licensed Clinical Psychologist. Dr. Johnson is an expert in anti-racism, equity, and social justice, having published scholastic articles and delivered presentations on culturally competent psychotherapy, anti-racism, and psychotherapy with African American men at national and international conferences. Additionally, he is a Mindful Self-Compassion teacher and has a certificate in Mindfulness and Psychotherapy from the Institute of Mindful Psychotherapy.
But that's not all! Dr. Johnson is also a sex therapist who specializes in providing psychotherapy to individuals and couples experiencing sex and sexuality related concerns. He is sex-positive and focuses his practice on men's sexual concerns, as well as kink, BDSM, and Polyamory communities. As a member of various professional organizations, including the Australian Psychological Society, the American Association of Sexuality Educators, Counselors and Therapist, and the American Psychological Association, Dr. Johnson has a wealth of experience in his field.
Originally from St. Louis, MO, USA, Dr. Johnson received his bachelor's degree in Psychology from the University of Central Missouri and earned his Doctorate in Clinical Psychology from Wright State University School of Professional Psychology in Dayton, Ohio. When he's not busy practicing psychology, Dr. Johnson enjoys sports, traveling, and indulging in his love of movies.
Join Aditi and Dr. Johnson in this engaging and informative episode as they discuss the complexities of navigating interracial relationships and the importance of anti-racism, mindfulness, and sex-positivity in therapy.
Follow Dr. Johnson's works via https://www.psychologytoday.com/us/therapists/bill-johnson-chicago-il/379046?preview=1&return_to=https%3A%2F%2Fmember.psychologytoday.com%2Fus%2Fprofile or connect with him via LinkedIn https://www.linkedin.com/in/bill-johnson-28688a153/. 
Produced by the Relationships Science Labs, a division of LMSL, the Life Management Science Labs. 
Visit https://lifemanagementsciencelabs.com/ to learn more about LMSL. 

Follow us on Social Media to stay updated: 
YouTube: https://www.youtube.com/channel/UCbjaCqZj5gyYEBdnJL__VCQ    
Facebook: https://www.facebook.com/relationships.science.labs/
Instagram: https://www.instagram.com/relationships.science.labs/   
Twitter: https://twitter.com/R_Sci_Labs 
You can also subscribe and listen to the show on your preferred podcasting platforms: 
Apple Podcasts: https://podcasts.apple.com/us/podcast/reloscope-the-relationships-science-insights-podcast/id1648297613 
Spotify: https://open.spotify.com/show/4By5jqMt6V0Co77Dsa1CgM  
Amazon: https://music.amazon.com/podcasts/e8ac0e92-9ca2-4e05-80e0-9b86f36da79f 
iHeart Radio: https://iheart.com/podcast/102784435 
Podbean: https://relationshipsscienceinsights.podbean.com/   
PlayerFM: https://player.fm/series/3401809 
Podchaser: https://www.podchaser.com/podcasts/reloscope-the-relationships-sc-4911255/episodes/recent 
Google: https://podcasts.google.com/feed/aHR0cHM6Ly9mZWVkLnBvZGJlYW4uY29tL3JlbGF0aW9uc2hpcHNzY2llbmNlaW5zaWdodHMvZmVlZC54bWw 
Comments
(0)
To leave or reply to comments, please download free Podbean or