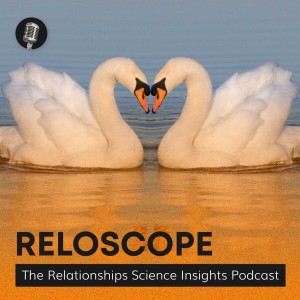 Friday Feb 03, 2023
Dr. Ashley K. Randall: Factors, Effects, and Ways to Deal With Relationship Stress | Reloscope #12
All couples experience stress in their relationships. Stress can come from a variety of factors. From arguments, differences in wants and needs, or neglected feelings. So how should we deal with relationship stress? And how does relationship stress impact our daily life?
In this episode of Reloscope: The Relationships Science Insights Podcast, host Aditi Kutty is joined by Dr. Ashley K. Randall, an Associate Professor in Counseling and Counseling Psychology at Arizona State University, USA. Her area of expertise is in how couples cope with stress in the context of the relationship. 
Dr. Randall has presented and published internationally on these topics. She is the Co-Chair of Division 52's Science Committee and the Editor-in-Chief of Personal Relationships, the flagship journal of the International Association for Relationship Research. A Fulbright Alumna (Switzerland, 2007) and Specialist (Indonesia, 2023), she is dedicated to international educational exchange. 
Dr. Randall is also a Fellow of the American Psychological Association's Division 52 (International Psychology).
Aditi and Dr. Randall discuss the definition of relationship stress, how to cope with relationship stress, and the prognosis of a stressful relationship. Dr. Randall also shares her favorite book and work experience as an Associate Professor in Counseling and Counseling Psychology. 
Follow Dr. Randall's work at https://ashleykrandall.wixsite.com/asucouplescoping. 
Produced by the Relationships Science Labs, a division of LMSL, the Life Management Science Labs. 
Visit https://lifemanagementsciencelabs.com/ to learn more about LMSL. 
Follow us on Social Media to stay updated: 
YouTube: https://www.youtube.com/channel/UCbjaCqZj5gyYEBdnJL__VCQ    
Facebook: https://www.facebook.com/relationships.science.labs/  
Instagram: https://www.instagram.com/relationships.science.labs/   
Twitter: https://twitter.com/R_Sci_Labs 
You can also subscribe and listen to the show on your preferred podcasting platforms: 
Apple Podcasts: https://podcasts.apple.com/us/podcast/reloscope-the-relationships-science-insights-podcast/id1648297613 
Spotify: https://open.spotify.com/show/4By5jqMt6V0Co77Dsa1CgM  
Amazon: https://music.amazon.com/podcasts/e8ac0e92-9ca2-4e05-80e0-9b86f36da79f 
iHeart Radio: https://iheart.com/podcast/102784435 
Podbean: https://relationshipsscienceinsights.podbean.com/   
PlayerFM: https://player.fm/series/3401809 
Podchaser: https://www.podchaser.com/podcasts/reloscope-the-relationships-sc-4911255/episodes/recent 
Google: https://podcasts.google.com/feed/aHR0cHM6Ly9mZWVkLnBvZGJlYW4uY29tL3JlbGF0aW9uc2hpcHNzY2llbmNlaW5zaWdodHMvZmVlZC54bWw 
Comments
(0)
To leave or reply to comments, please download free Podbean or