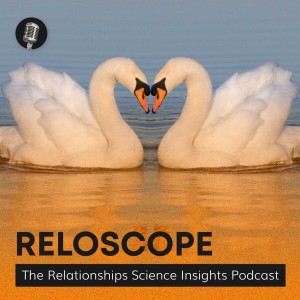 Friday Jan 27, 2023
Deepika Mulchandani: How Does Possessiveness Affect a Romantic Relationship? | Reloscope #11
When we're in love, we tend to feel attached to our partner. Where does this cross the line into being possessive?
In this episode of Reloscope: The Relationships Science Insights Podcast, host Aditi Kutty is joined by Deepika Mulchandani, a trauma-informed sexual and relationship health therapist, who is focused on supporting people to recognize the impact of trauma in our lives (relational, physical, and sexual) so we can recover and rebuild healthier & more loving relationships and enjoy a better sexual life. 
Deepika is also the founder of The Open Connections, A Somatic Recovery & Relationship Wellness Centre based in Singapore & Indonesia & The Whole Woman Project, an experiential space for women to reclaim feeling safe and empowered as a sexual person through Embodied Belly Dancing, as well as an Advisor to heyy —a mental health app promoting recovery backed by AI technology and led by Human Connection. Deepika is also a Clinical Member of the Singapore Association for Counselling (SAC) and a professional member of the Australian Association of Family Therapy (AAFT). 
Aditi and Deepika discuss reasons why people can get possessive in a relationship, how people should deal with possessiveness in their relationships, and most importantly, how we can recognize possessive behavior in ourselves and others. Deepika also shares her work experience related to romantic relationships. 
Follow Deepika's works closely via https://theopenconnections.podia.com or connect with her via LinkedIn https://www.linkedin.com/in/deepika-mulchandani/ and Instagram @deepikamulchandani. 
Produced by the Relationships Science Labs, a division of LMSL, the Life Management Science Labs. 
Visit https://lifemanagementsciencelabs.com/ to learn more about LMSL. 
Follow us on Social Media to stay updated: 
YouTube: https://www.youtube.com/channel/UCbjaCqZj5gyYEBdnJL__VCQ    
Facebook: https://www.facebook.com/relationships.science.labs/  
Instagram: https://www.instagram.com/relationships.science.labs/   
Twitter: https://twitter.com/R_Sci_Labs 
You can also subscribe and listen to the show on your preferred podcasting platforms: 
Apple Podcasts: https://podcasts.apple.com/us/podcast/reloscope-the-relationships-science-insights-podcast/id1648297613 
Spotify: https://open.spotify.com/show/4By5jqMt6V0Co77Dsa1CgM  
Amazon: https://music.amazon.com/podcasts/e8ac0e92-9ca2-4e05-80e0-9b86f36da79f 
iHeart Radio: https://iheart.com/podcast/102784435 
Podbean: https://relationshipsscienceinsights.podbean.com/   
PlayerFM: https://player.fm/series/3401809 
Podchaser: https://www.podchaser.com/podcasts/reloscope-the-relationships-sc-4911255/episodes/recent 
Google: https://podcasts.google.com/feed/aHR0cHM6Ly9mZWVkLnBvZGJlYW4uY29tL3JlbGF0aW9uc2hpcHNzY2llbmNlaW5zaWdodHMvZmVlZC54bWw 
Comments
(0)
To leave or reply to comments, please download free Podbean or